Antique Miniature Knives
Many antique miniature knives were made in England and Germany.
I am buying English, Sheffield & German "Miniature Multiblade Knives"!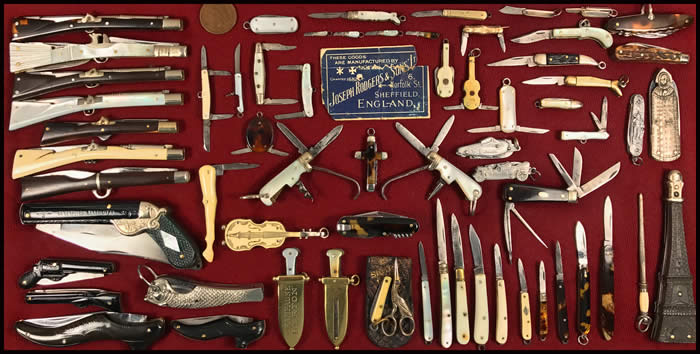 Many of these small knives were made as watch fobs worn on pocket watch chains.
The smallest knife here is 9/32'" long when closed. Just over 1/4" long.
Tiny Miniature Knives. The smallest here is 9/32" long closed.
Tiny antique miniature knife 5/16" long closed.
Made by Joseph Rodgers & Son's Sheffield, England
English Figural knife in the shape of an Ancient Dolphin.
An unusual smoking knife with Cheroot/Cigar cutter & match strike.
Made of Sterling Silver with an English Patent date of around 1875.
Miniature horseman's knives. 1 3/8" long.
Victorian Rifle Pencil Knife and

miniature Rifle Knife.

Made in England & Germany.

The Corkscrew is the smallest I have

ever seen! 13/16"
Nice Figural Cigar Cutters. Violin, dolphin and Swords. Miniature 8 blade + 2 tools. 1 5/8" long.
All photos are protected under copyright laws.
No reproduction is allowed without my permission.
Click photo to enlarge