Antique Miniature
Pinfire, Rimfire & Centerfire
Pistols, Guns, Rifles
Especially Looking For Kolibri Pistols & German/Belgium Miniature Revolvers!
I'm always looking for nice examples to add to my collection.
Most miniature pistols were made in Austria but many were also made in France, England, Germany, Belgian, Japan, Mexico and the USA.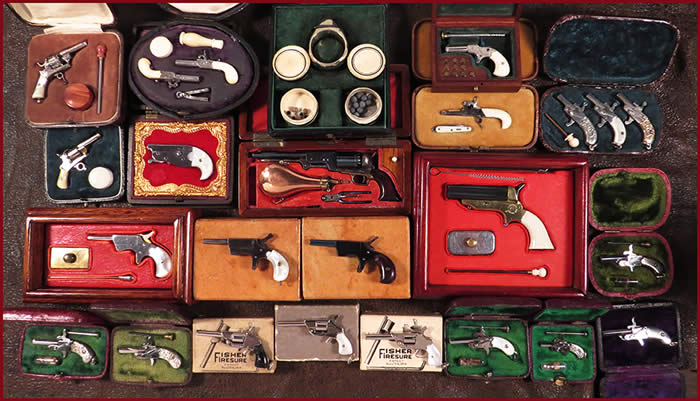 Kolibri Pistol In Original Case!
Kolibri gun 2.7 mm! Manufactured around 1914 in Austria by Franz Pfannl. It is the smallest semiautomatic pistol ever manufactured.
Measures just under 3" long.
Rare Kolibri Box and 2.7mm Pistol.
Rare 3mm Kolibri Ammo Box and Ammo.
Miniature Frank Wesson Swivel Barrel gun with Pop Out Blade. 2mm Rimfire. Made by Larry Smith.
Larry Smith's Miniature Guns.
Larry Smith Colt Patterson 2mm Pinfire.

Larry Smith Remington Elliot

Miniature gun. 2mm.
Kolibri #3 2mm Rimfire Pistol.

Miniature Flobert 2mm Rimfire Pistol.

Reportedly Made By Famous Watch Maker

Gene Clark.
Made by Alex Baez. Miniature Colt 1911 A1 45. 1 11/16" long!
The large pistol is an early 1911 Black Army Colt 45. WW1.
A Very Cool Miniature Replica Hopkins & Allen Parrot Beak Pistol.
1 3/4" long. I'm not sure who made this.
Very Rare Tom Weston Mexico City, Colt Walker 1847 Miniature Pistol! Marked "A Company 3".
This will actually shoot a 12 calibre bullet. 1/4 Scale, 3 7/8" long! Made in the 1950's.
Rare Tom Weston Mexico Sharps Pistol.
Beautiful Engraved 2mm Rim Fire 1870's Miniature German or Belgian Revolvers. These were used on watch fobs. 1 3/4" long.
A New Addition. Miniature German or Belgium 2-mm Pinfire Double Action 6 Shot Revolver. 1 5/8" Long.
3 Very Nice Tom Weston Belmex

Miniature Pistols. 3mm & 2mm

Larry Smith Remington Elliot Miniature.
Tom Weston Miniature Rifle, Mexico City

Miniature Winchester 66 Rifle. Made early 1950s.

Tom Weston Miniatures

BelMex, Colt 45, Japan Nambu
Rare H S Kolibri miniature gun.

Original Box.

Miniart Thompson Submachine Gun Made in Russia.
| | | |
| --- | --- | --- |
| Rare Pfannl Miniature Rifle with Rare Scroll Stock. Made in Austria | German, Austrian Miniature Pinfire Rifles. | Rare Germany Miniature Rifle with Rare Scroll Stock. |
| | | |
| --- | --- | --- |
| | Japan Pinfire Rifle with Rare Bayonet | Rare Germany Miniature Rifle with Rare Scroll Stock on the right.Austrian Rifle on the Left. |
Blued Early Austria Pinfire.

Blued by myself. It was in pretty bad condition.

Fisher Firesure & Dosick in original boxes.. Made in USA
Austrian Pinfire pistols. Made around 1900.

The one on the right is one of the smallest

I've seen with a case.

Cased miniature Pinfire pistols made in Austria. Late 1800's.
Austria and Japan miniature pinfire

rifle

Bay Bridge miniature

pinfire pistol

Tom Weston Mexico. Colt 45

and Japan Nambu. Miniature pistols.
Kolibri miniature pistol gun

Double barrel Kolibri

miniature pistol gun

Single barrel Kolibri

miniature pistol gun
Miniature Little 45, American Gun Mfg. Co.

Rare double set miniature pistols from

American gun Mfg. Co.,

consecutively numbered.
French Le Petit Protector Ring gun.

Shoots the tiny lead balls.

Rare French engraved

miniature pistols.

Rare French miniature pistol watch

fob key & knife. Ivory handles.

Shoots tiny 1mm percussion caps.
All photos are protected under copyright laws.
No reproduction without my permission.